Our Hampton Beach NH Motel Location And Amenities
The Dolphyn Motel is a family-oriented motel located between C and D streets in the heart of Hampton Beach. We are just one block from the beach, amusements, restaurants and shops. Owned by our family for over 40 years, we take great pride in our clean rooms and comfortable accommodations.
We are also an easy drive to Fenway Park Red Sox games and the ne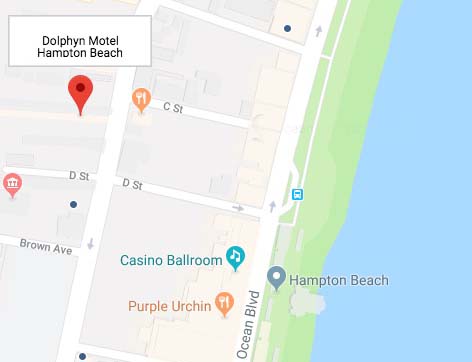 w Encore Casino in Everett, Massachusetts. And we are near Water Country Water Park and many other attractions of the NH and Maine coasts.
Hotel Features: Our guest rooms offer:

• 1 or 2 Queen Beds
• Kitchenettes Available • Some rooms also have sleep sofas
• Refrigerator and A/C
• Heated Outdoor Pool In A Private Area, Away From Streets
• Free WiFi • Short Walk to Beach and Attractions
• Great Balcony View of Fireworks Every Wednesday
• 24 Hour Security • Easy Convenient Car Parking
Click images below for larger views

It is hard to say when Hampton Beach became such a famous place to spend splendid summers on the Seacoast. Was it in 1900 when the trolleys arrived at the Hampton Beach Casino? In the 1840's when the first hotels were opened for summer vacationers? Or a now forgotten era, when Native Americans camped out on the shores of Hampton Harbor?
Those were merely the seeds of a great destination being planted.
The truth is that the town of Hampton itself was once a major farming community, with few concerns about the needs of a vacationer's paradise along its Atlantic shores. This neglect led to the formation of the Hampton Beach Village District.
Established on June 26, 1907, the Hampton Beach Village District began a pattern of progress as it led the town to the future. Electricity and waterworks were installed at Hampton Beach first to ensure the comfort of visitors. More importantly was the creation of the town's first Fire Department to ensure the protection and safety of property at Hampton Beach. The 1923 fire station at Hampton Beach is still in service and stands on Ashworth Avenue, near Hampton's new police station.
Hampton Beach NH Motel Location And Amenities